What to Expect and Tips for You and Your Child
The American Academy of Pediatric Dentistry (AAPD) advocates the first "regular" dental visit to be just after your child's first birthday or 6 months after the first tooth erupts, whichever comes first. After conducting a Risk Assessment, we will gently examine your child's mouth.
What Happens During a Pediatric Dental Exam
Depending on your child's age and behavior, a lap-to-lap examination may be necessary.
X-rays may be taken, to reveal tooth decay and to check on the progress of your child's permanent teeth under the gums. We may clean your child's teeth and apply topical fluoride to help protect the teeth against decay. We will make sure your child is receiving adequate fluoride at home. Most important of all, we will review with you how to clean and care for your child's oral cavity according to his/her susceptible risk factors.
As pediatric dentists, we understand the attention span of children throughout their developmental milestones and/or innate challenges. For this reason, we try to expedite the treatment process without compromising care while keeping your child distracted with our overhead monitors displaying children favorite shows and oral health informative videos.
Tips for a First Appointment
Parents, please be mindful of what you tell your children about dental visits. Fears passed down from parents or other adults may contribute to why some children are afraid to go to the dentist.
Please view the video below to familiarize yourself with your young child's first dental experience and exam.

Some tips that can help to make your child's 1st dental visit a pleasant experience:
Try to make your child's first dental visit without any major treatment or appointment.
Explain the procedure to your child using comfortable words.
Get your child to talk about how he/she feels and what they expect from the dental visit
Read child-friendly books on visiting the dentist (e.g., Dora's first visit to the dentist)
Oral Health Promotion Videos
Please visit this site for more FUN videos on motivating children to maintain good oral health.
Pictorial Overview of a Pediatric Dental Visit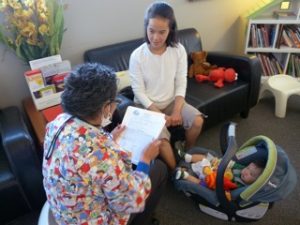 1. First, we will need your child's health history, financial/insurance information, and your consent before we start.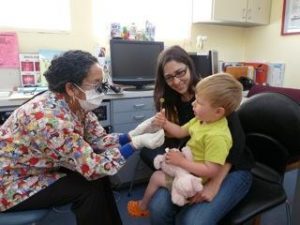 2. The doctor will introduce himself/herself to you and your child, and will proceed to review your child's health history.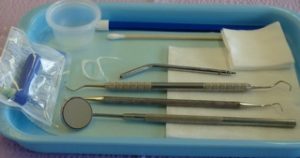 3. Next, we will give your child an introduction to our office, showing your child all our tools and their purposes.
4. Then, based on your child's dental needs, we may take some pictures of your child's teeth/jaws with our special (x-ray) camera by one of our friendly staff members.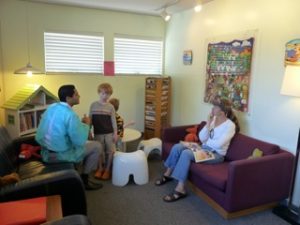 5. Relax in our exam/consultation area while we get to know your child a little more and educate the whole family about good oral health.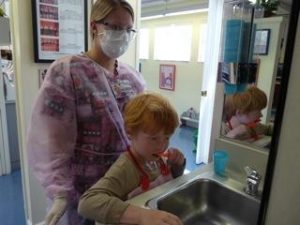 6. You and your child will learn how to care for his/her mouth, receive a tooth cleaning, fluoride treatment and see the teeth photos together.
7. The dentist will look at the x-rays and do a gentle comprehensive oral exam of your child's oral cavity.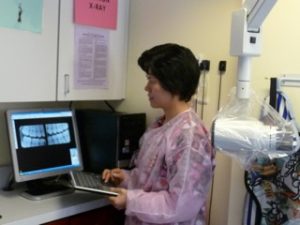 8. Now, the dentist will review x-rays and exam findings with you and you will have the opportunity to ask any questions or concerns.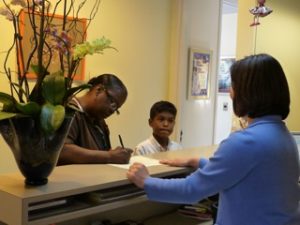 9. If there's any treatment needed, you may schedule an appointment at the front desk. Otherwise, we will send you a reminder card for your child's next check-up. Remember, routine dental visits keep your child's oral cavity & entire body healthy.